Luxury Lark & Berry Advent Calendar
Please note that this item is made-to-order. It typically takes around 3 weeks for us to complete your order before shipping.
---
This holiday season, experience the enchantment of the 2023 Lark & Berry Advent Calendar – an extraordinary journey into the world of fine jewelry. With various options to choose from, it's the ultimate holiday gift that promises elegance beyond compare.
Fine Piercings Advent Calendar: Elevate your ear game with a selection of exquisite 14K gold lab-grown diamonds and gemstones fine piercings. From dainty studs to mesmerizing hoops and diamond charms, immerse yourself in a symphony of styles that let you curate your radiant look throughout the festive season.
Jewelry Essentials Advent Calendar: Indulge in the perfect blend of sophistication and variety. Our mixed jewelry calendar includes a delightful array of necklaces, earrings, bracelets, and fine piercings including Lark & Berry and our sister brands - suitable for any occasion. Unwrap a new treasure every day and adorn yourself with timeless pieces that complement any style.
The Journey Unveils 12-Day & 24-Day Options: Dive into our 12-day and 24-day calendars, each offering a curated collection of fine piercings and/or jewelry handpicked by our lead stylist. From delicate studs that whisper elegance to the grandeur of necklaces that capture attention, these calendars promise an enchanting discovery every day.
Pricing:
12-Day Fine Piercings: $3,500
12-Day Mixed Jewelry: $7,500
24-Day Fine Piercings: $6,850
24-Day Jewelry Extravaganza: $14,350
Purely Fine Jewelry 12-Day: $45,000
At Lark & Berry, we believe in making your gifting experience exceptional. Have a specific budget or style in mind? Let us know, and our stylist will curate a custom advent calendar just for you – from fine piercings that speak to your elegance, a mix of jewelry pieces reflecting your charm, to even an engagement ring at the end of the calendar.
---


Luxury Lark & Berry Advent Calendar
Lifetime Cleaning and Warranty

Lifetime cleaning

We offer complimentary cleaning on all our products when you bring them to one of our locations, showrooms or offices worldwide!

We want to make sure your piece sparkles forever on you.

Warranty

For full details please visit our Warranty T&Cs.
Taxes, Deliveries and Returns

Taxes

All import duties and taxes are included for shipments in the UK, Canada, Europe, USA and Mexico.

Returns and Refunds

All online orders have a 30 day returns policy from the day of delivery. Items must be returned unworn in their original packaging with all tags. Any gifts with purchase must also be returned in the same condition as received.

For more information view all T&Cs.
Comparing Lab vs Mined

Price

Our comparison prices are derived from a careful analysis of how we source and acquire our diamonds compared to the typical sourcing and pricing of mined diamonds. We keep the metal prices stable among all comparisons, only the stones are taken into the comparison calculation. While prices may fluctuate over time, we continuously monitor these trends to give you the most accurate data we can find.

Value

Guaranteeing an ethical diamond is priceless, however in terms of monetary value, traditional mined diamond jewelry retains a resale value of just 20-60% of its original price - that's if you find a buyer.

Our focus is on you wearing and enjoying your piece, so opting for lab diamond jewelry allows you to allocate your savings elsewhere while still keeping your cherished piece forever.
LAB VS MINED
Drag the slider to find the differences between the mined and lab diamond. (Hint: there's only one!)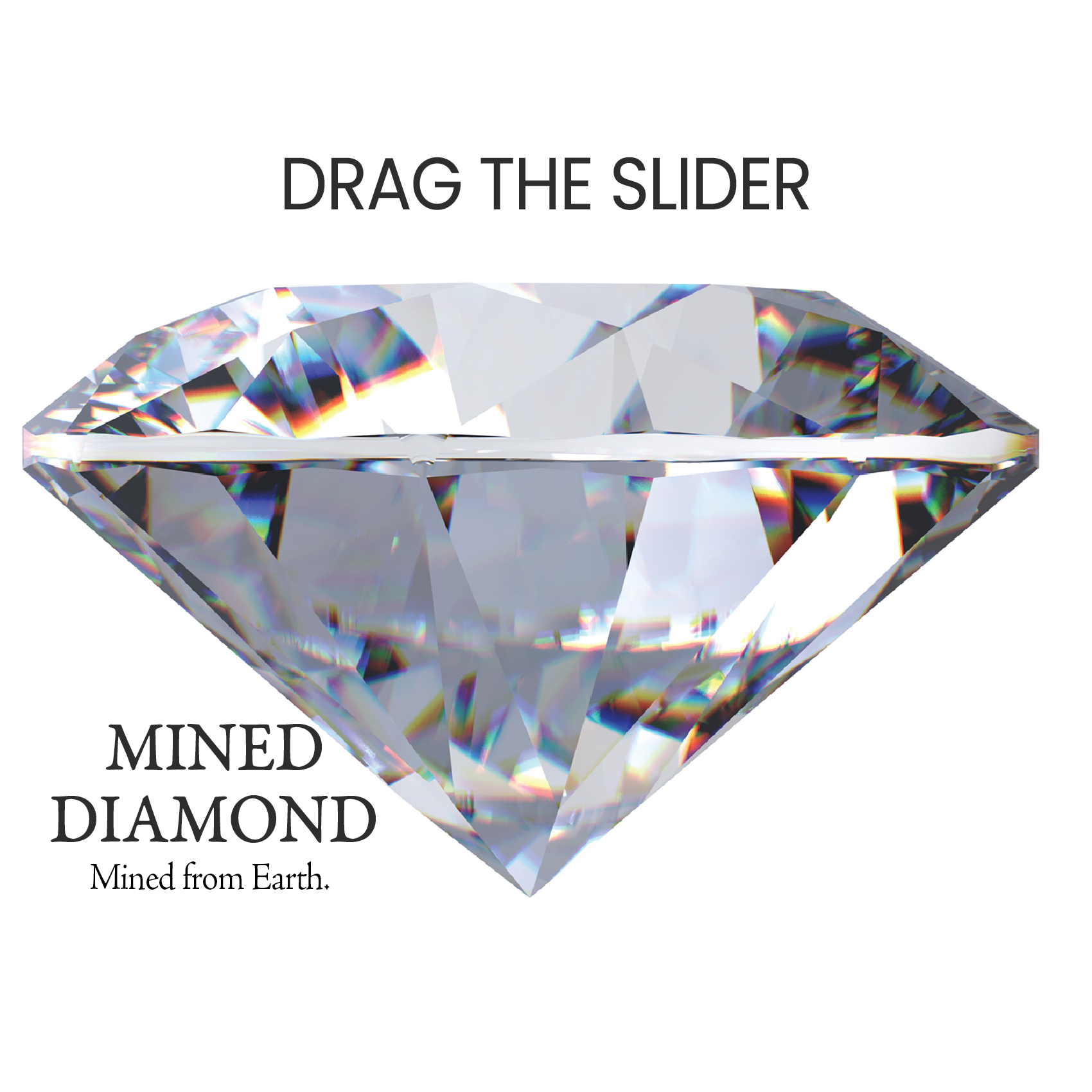 CARAT
Carat refers to the weight of a diamond, with one carat equaling 200 milligrams. It measures the size and scale of the diamond.
CUT
The cut of a diamond determines its sparkle and brilliance. A well-cut diamond reflects light beautifully, enhancing its overall beauty.
COLOR
Diamond color refers to its lack of color, with the highest grade being D (colorless) and descending through the alphabet. Less color means more brilliance.
CLARITY
Clarity assesses the presence of imperfections or blemishes within the diamond. Higher clarity grades signify fewer flaws, resulting in a clearer and more valuable diamond.
VISIT US
London

52a George St.

W1U 7EA

London, UK
Hong Kong

Our showroom is located in central. Please contact us to make an appointment.
USA